State and National Meetings
NAACP 2020 Freedom Journey
December 21, 2020 @ 7:00 pm

-

9:00 pm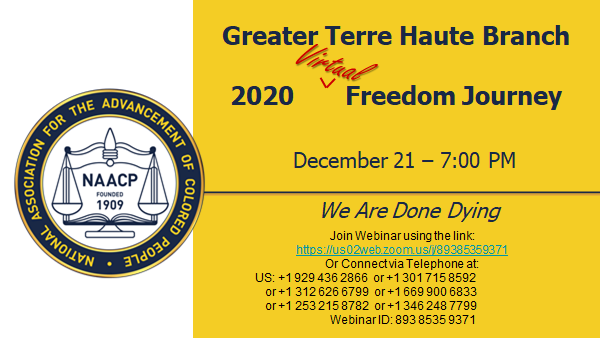 NAACP 2020 Freedom Journey', a virtual program is slated for this coming Monday, & will present a review of significant activities, achievements, and accomplishments of the Greater Terre Haute branch during the year.
The program will highlight the work of the dedicated volunteers who advanced us on our Freedom Journey in the areas of Civic Engagement, Civil Rights and Community Involvement, Criminal Justice, and Education and Public Safety.
Learn about the Facing Injustice Project, contributions to the national anti-lynching campaign, and the Declaration of Innocence

Observe a discussion between NAACP President Sylvester Edwards, Black Lives Matter supporters Erick Beverly and Emma Crossen, and Terre Haute Police Chief Shawn Keen, reflecting on their meetings to strengthen police/community relationships

See the outcome of a free economic success program that offered participants opportunity to learn how to better manage their money

Hear about the NAACP's commitment to protests against the Death Penalty.

Meet the NAACP leadership elected to continue the Freedom Journey into 2021.
So be sure to log-in & learn why you should get involved!!
All members of the public are invited to join the event. You can join any one of three ways: